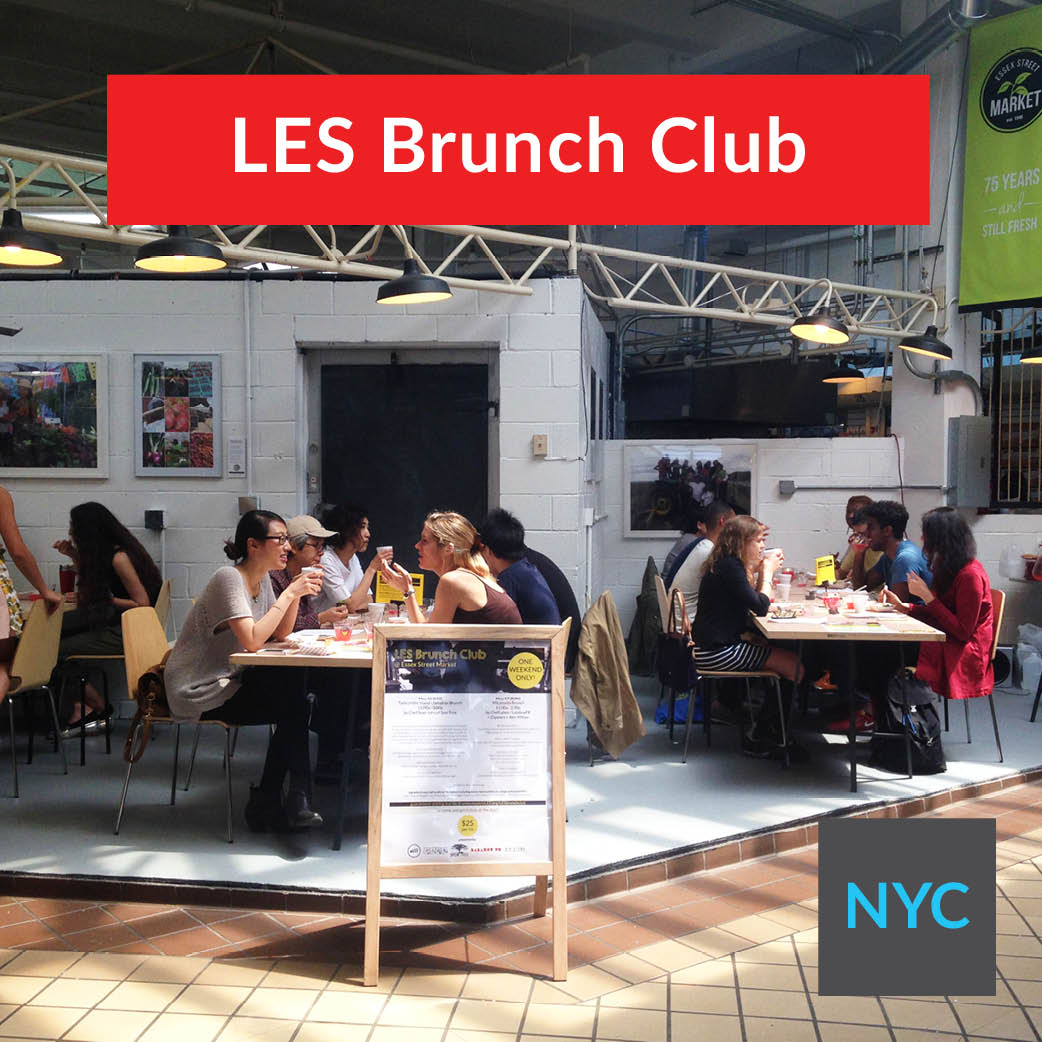 PROJECTS
LES Brunch Club
DATES OF POP-UP
DURATION
ATTENDANCE
LOCATION
Lower East Side, NEW YORK
BENEFITS
Exposure for the two chefs

Exposure for the local vendors at Essex St Market

Additional foot-traffic to the market

Creative use of underused spaces at the market

Community building
A gourmet gem in the Lower East Side, Essex Street Market specializes in a wide variety of culinary products including gourmet cheeses, premium cuts of meat, fresh fish, fresh juices, baked goods, and more.
The LES Brunch Club curates special chefs for the weekend to whip up a brunch menu based on fresh ingredients sourced directly from the market and its purveyors, or from neighborhood stores. At each brunch, we emphasize the stories behind the ingredients, local purveyors and small businesses. After eating, brunch-goers are encouraged to stick around, explore the market and shop locally!
FEATURED CHEF: SEAN JOHN
New York City-based chef and restaurateur, Sean John, owner of Spur Tree, is not your typical chef. Raised between Jamaica, England, Peru and NYC and surrounded by an artistic family, Sean John is a self-proclaimed 'globorati' & an avid creative. In January of 2008 he decided to open a restaurant and apply his culinary discipline in a way that would fuse his passions for food, music and hosting. Under Sean John's culinary direction, Spur Tree opened with rave reviews for its Jamaican-Asian fusion fare & it quickly established a cult following. It has been featured in "best of" lists in several magazines, including Maxim and The New Yorker.
FEATURED CHEF: ChefLaboy / LalaboyPR with Dipsters + Alex Mitow
Las Laboy sisters are, as they like to say, "professional creatives" who stand for the alternative and the authentic. Suset and Maria Laboy grew up loving Salsa and Saved by the Bell; Cafe con leche and Cabbage Patch Kids. One has a Master's degree in Latin-American Studies and a near-constant craving for pizza; the other a Master's in Architecture and a killer recipe for Arroz con Pollo. They also share a passion for catapulting emerging brands and artists to mainstream success while maintaining their authentic voice, and a desire to support brands in achieving greater reach and loyalty from both traditional markets and the Latino market.
Their adventurous creativity takes them on many different routes. They are always up for a good experiment that shines light on the Latino. One thing is for sure, whether in Spanish or English, Suset and Maria are foodies; culinary art/chefs enthusiast at heart